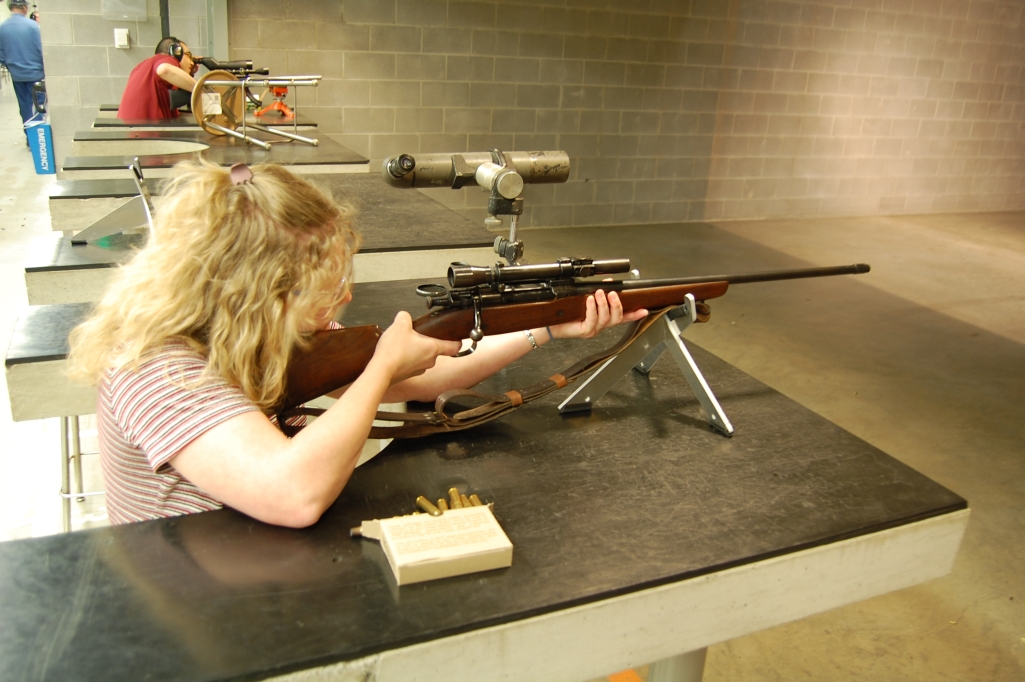 (Morrisville, N.C.) Collaborative product design and development firm Montie Design announces the availability of its unique portable shooting rest, the second original product conceived, designed, and distributed by the RTP-based company in the last nine months. Designed to meet the needs of all shooters as well as most firearms, the easy-to-carry rest weighs less than two pounds and disassembles easily in three pieces, fitting neatly into a small carrying case. Unlike conventional bench rests, which are heavy and complex, the novel Montie Design model — made of sturdy yet lightweight aluminum — provides steady support for different sized long guns ranging from semi-automatic and bolt action rifles to shotguns, carbines and pistols.
"There's nothing like this on the market," said Montie Roland, president of Montie Design and active shooting enthusiast. Roland, who used to shoot competitively and has a daughter on a local junior rifle team, said he got the idea for the product after tiring of carrying around a conventional combination of a heavy rest and sand bags for recreational shooting.
"I realized that a lighter weight version would serve the recreational shooter better," he said.
Karl Frank, business development manager at Montie Design, received positive feedback on the portable shooting rest at a recent Special Operations trade show in Fayetteville, N.C. "It's clear this product has military or police applications as a training tool for the long gunners in the squad, and for sighting in and maintenance operations," Frank, whose background includes development of tactical equipment for military applications, said.
Roland said the idea for the product came not only from personal experience but also from what he saw as the market prospects for such a product. Nationally, approximately 200 companies are actively involved in the U.S. firearms industry, combining for an annual revenue of $2 billion. In the Triangle region of North Carolina there are more than five shooting ranges and multiple firearms retailers, not to mention major chains selling guns and ammo to hunters and competitive shooters.
The design and distribution of the shooting rest comes on the heels of Montie Design's innovative radio frequency identification (RFID) detector card which was released in January and is now being sold throughout the U.S. and seven foreign countries.
"Sometimes there is no better way for a design firm to find the next client than to show off a simple, well-designed product to a potential client and say, 'we did this in our spare time, imagine what we could do for your product line,'" Roland said, adding that concrete examples like the RFID detector and portable shooting rest show initiative, leadership and capability to his clients
Both the RFID detector and the shooting rest are produced in the Research Triangle Park region of North Carolina, using local manufacturers.
"The Triangle is full of not only thousands of ideas for great products, but many innovative, quality firms with talented professionals who can produce, market, and distribute those products throughout the world," Roland said. ADR Hydrocut, a Morrisville company that waterjets the parts for the portable shooting rest was instrumental in the development of the product.
According to Frank, ADR Hydrocut provided prototypes and extremely valuable input. "Having the manufacturer literally just down the street made the development process much easier and convenient. We call this approach 'Made Right Here,'" he said.
Future plans for the portable shooting rest include releasing drawings and design specs as open source in addition to designing an adjustable, pistol-oriented version of the product.
To learn more, or purchase the new shooting rest or RFID Detector, visit www.montie.com.

About Montie Design
Montie Design is a collaborative product design and development firm with core competencies in
industrial design, mechanical design and fuzzy front end services. Implementing a client-centric approach in taking products from
concept to marketplace, Montie Design balances vision with usability in realizing products that are economical to manufacture, elegant and
robust. The firm operates out of the Research Triangle Park region of North Carolina with access to industry-leading technology, resources
and innovative thought. For more information, visit www.montie.com.
Media Contact:
Montie Roland
montie@montie.com
800-722-7987
919-412-0559 [cell]